Slot Machine "SPIN FOR FIFA"

TOTAL REWARDS OF 3,150,000 COUPONS
EVENT DURATION
Nov. 24th 2022 (00.00) GMT+7 - Nov. 30th 2022 (23.59) GMT+7
EVENT DETAILS FOR HOST
1. Top 30 players who reach most of Turnover on mentioned
period will be rewarded.
(Each step of Turnover will receive different reward)
2.Special reward, for 30 first places who vote
on our Facebook fanpage
before 25 NOV 2022
will have a chance to receive
5,000 coupons
if complete all of below conditions.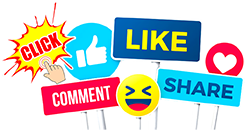 1. Like our page
@luckygamesmlive
2. Then like and share our event post (Set as public post)
And apply our hashtag as #Luckygames #ฟีฟ่าเวิลด์คัพกาตาร์2022
#FIFAWorldCupQatar2022
3. After share don't forget to send us the screenshot below the event
post and mention your IDX + name of the team - country
EXAMPLE
IDX – 12345678
GROUP A Champion - Qatar
GROUP B Champion - England
4. Reserved the right for receive reward 1 IDX / 1 post.
5. Team's decision is final.
** In case of not complete the conditions
/ delete sharing post / incorrect IDX will be disqualified **
EVENT REWARDS
300,000 – 999,999 Turnover will receive 3,000 coupons.
1,000,000 – 2,999,999 Turnover will receive 10,000 coupons.
3,000,000 – 5,999,999 Turnover will receive 30,000 coupons.
6,000,000 – 8,999,999 Turnover will receive 50,000 coupons.
Over 9,000,000 Turnover will receive 100,000 coupons.
FIFA Special Rewards
receive 5,000 coupons
TOTAL REWARDS OF 3,150,000 COUPONS
Lucky Jackpot "CHECK OUT! NEON HERE FOR 5M COUPONS"
Draw and announce the result of Lucky Jackpot
event by Lucky Games admins will be
on November 28th, 2022 at 5.00 PM GMT+7 onward
at Lucky games MLive IDX : 62861296

REMARKS
- Participants require to reach all of conditions
during event period will receive the rewards.
- Lucky Games event will not be a part of broadcaster
ranking conditions.
- Announcement of results and awarding within 5 working days
after the end of event.
- In case of server maintenance or another
reason causing players cannot be online during event holding,
event still ends as it was.
- We reserve the right to change the event details without prior notice.
- The staff's decision is final.
- Rewards will be referred from ranking that update on the last day of event.
- Time is mainly based on server.
- For more information, problem report or event rewards
please contact LINE :
@luckygames
or Facebook :
@luckygamesmlive
Winnine Pacific Pty Ltd ,NSW Australia