Introducing new function of Roshambo
New function update! With a better experience
Easily play during live, including gift or without one
Winner can ask for anything and if you ready come have some fun
1.Tap at 3 dots in the live room ( …) at right bottom corner.

2. Tap for "Roshambo" and choose for a winner gift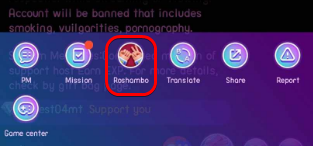 3. Decide for a winner prize which will be "Gift" or "Coupon"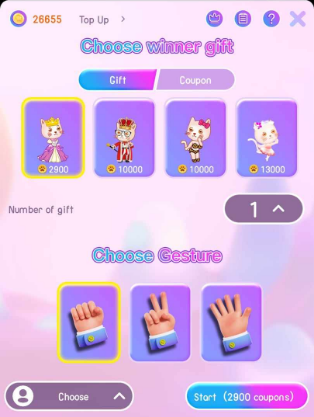 In case of choosing "Gift" winner prize will take place on Backpack
with a return of bet coupons.
For an example, if chose MQueen as a winning prize (2,900 coupons)
Winner will receive returning coupons with 1 MQueen in a Backpack.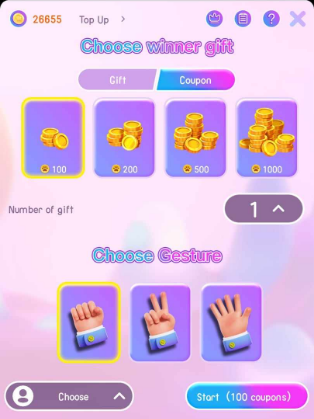 In case of choosing "Coupon", winner won't receive any return coupon.
However, players can make an agreement with each other
and decided that what will loser do for a winner.
4. After decided for a winner prize, tap at "Choose" and send invitation to the opponent.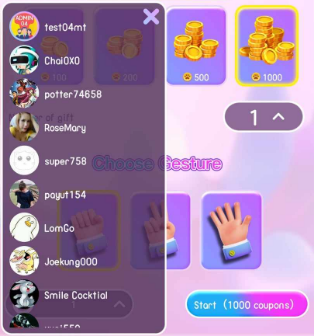 ** Miximum 10 invitation can be send, sending to first 10 IDX in a live room**
** After the opponent accepted the invitational,
others invitation will automatically cancel (no coupon deduct)**


5. Click at "Start" for to send an invite > choose "Confirm"> Coupons will be deducted and please wait for others to respond.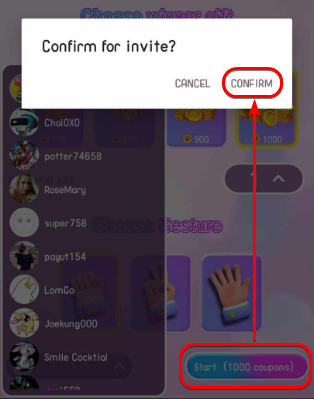 ** "Invite has been sent" will be appear **
6. The opponent can not choose for a gift can choose only Rock, Scissors and Paper.
After decide click for "Start"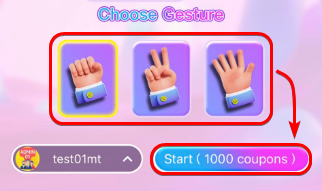 Coupons will be deducted then game will be start.
7. System will represent fighting animation with a result.
8. Winner can check for their coupons at gift box.
** Reward can be found at Gift box > Backpack **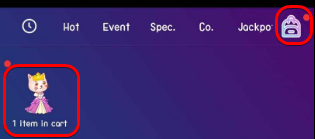 Gift in a backpack can be send to any IDX following by its condition.
Report an issue please contact via MliveFanClub inbox page.