TOP Rank CARD
NEW COLLECTED GIFT ARRIVED! TOP Rank CARD!!
Not only get exclusive card but also get the greatest privilege ever.
Own special card from top ranking host which no one ever have it before
and come with VIP status. LET'S CHECK IT OUT!
ONLY 100 WinWin Coins PER CARD!!!
User who buy VJ card, please contact for receive reward at ...
Fanpage Mcat
CARD'S PRIVILEGE
1. Receive 1% of Mcat Mking Fighter event reward on October 2022 round.
In case of host who you buy card on top 10 ranking on
Mcat Mking Fighter
event.
E.g. User buy card of Abby (host), which receive bonus as 100,000 THB,
user will receive 1,000 THB as bonus.
(Exclude weekly bonus)
2. Receive VIP Level 3, for exchange
WinWin coin or do transation by WinWin Coin.
Waive Fee
☆ Coin Bank 2.5 % ☆
☆ Transfer 2.5 % ☆
☆ Currency Swap 2.5 % ☆
EVENT REWARDS FOR VJ
VJ Card
Reward
VJ Card
Reward


1st place

1,067.75 Bath


2nd place

755.56 Bath


3rd place

511.25 Bath


4th place

395.87 Bath


5th place

303.12 Bath


6th place

262.40 Bath


7th place

211.68 Bath


8th place

162.85 Bath
The newest collection has 11 cards in total.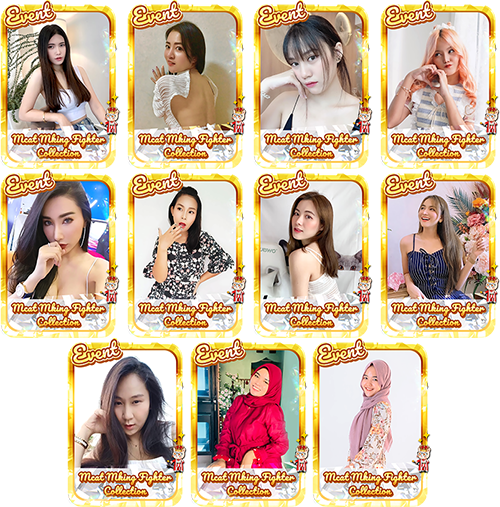 How to claim reward for user who buy VJ card.
1. Access to
WinWin Card
2. Choose "EVENT REWARD"

3. Claim reward has 2 options, following these: 1st option, receives as THC.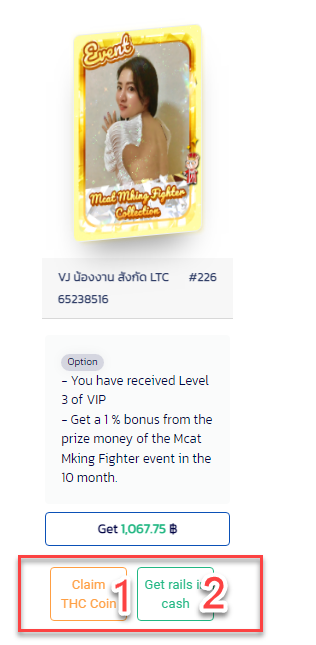 Tap on button for receive THC.
- Tap "confirm" 2nd option, receives as cash.
- Tap on button for receive cash.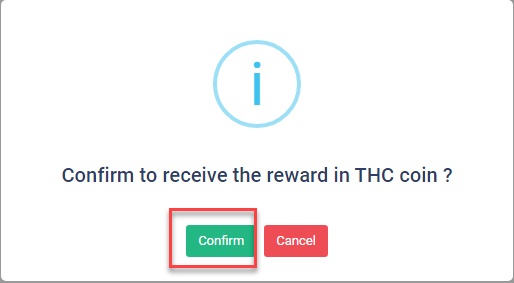 - System will shows up required information before contact team at
inbox Fanpage Mcat
- Tap "confirm"
- After confirmed, please contact and inform team for checking information.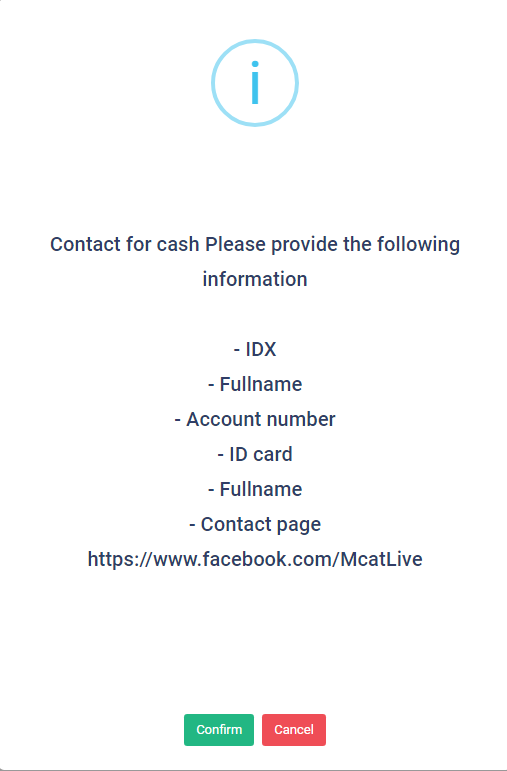 4. After rechecked information and transferred, will show the mesassage following this photo.
REMARKS
- The card will be valid of bonus only on October 2022 round.
- Limit to buy 1 card/host.
- The privilege will be valid for 30 days since buy the card, user will
possible to continue using.
- Available to buy since September 26th, 2022 – October 18th, 2022.
- Contact for claim bonus here:
inbox Fanpage Mcat
For more information or purchase card, please check
here
Winnine Pacific Pty Ltd ,NSW Australia