Urgent Annoucement for Users with Facebook ID
According to the update of Facebook Application,
Users who log-in with Facebook Account will be unable
to log-in in the following days.
We would recommend to convert the mentioned
id into M ID before October 26th 2020
unless your id will be no longer useable.
We have to solutions to convert
your Facebook ID into M ID
with these following solutions.
1. Please access ▶
Here
◀ for conversion your ID or Click this banner in the Application

2. The system will reach you to Activate Facebook Function.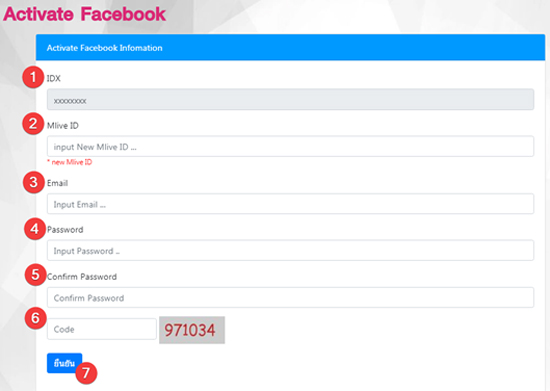 1. Displayed your IDX which linked
to Facebook (Please confirm your IDX correctly)
2. Please Enter your new Username
3. Please Enter your new valid email
and please make sure this email is different
from your previous account.
4. Please Enter your password code in 6 -12 Letters
5. Please re-enter the password code in (4.) again
6. Please Enter the code in the picture
7. Please check all the detials before confirm clicking
---
FAQ
Q : What would I do when I Log in
with Active Facebook ID and it shows this message
' Facebook Already Activate. Please Login with M ID.' ?

A : Your Facebook ID has been connected
with M ID. Please log in to your registered M ID
---
Q : What would I do when I saw this "Email already exists.
Please check again."?

A : Your email has been already registered in another ID.
Please try another Email.