Lucky Code VJ
Get more cash, Just enter the code
Simply enter the code which given by VJs in the game.
The more playing, the more VJ gets the profit.
What are you waiting for? Come join Lucky code!
VJ can send the gift to herself from the reward getting.
(VJ's IDX cannot be entered as a lucky code)
Example of code entering
1. Press the icon in the picture
and enter the code (don't forget to press OK)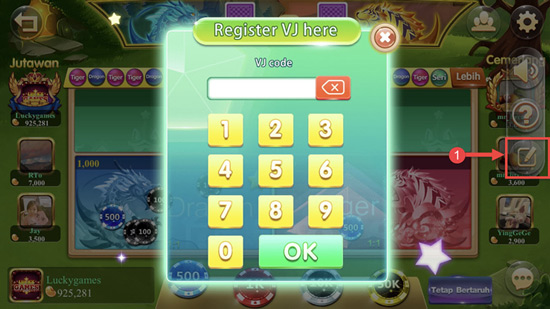 Details
1. VJ can get the code from the website.
Then, VJ can give those code to users for enter in games.
2. VJ will receive a shared coupon from Total invited Users'
"Turn Over". The more "Turn Over", the more share VJ gets.
3. Every 10,000 cumulated coupons, VJ will have a right to get rewards.
VJs have to get rewards themselves in
https://luckygame.in.th/
How to get Lucky Code (For VJs)
1. Enter
https://luckygame.in.th/
2. Login your ID (Same as in your APP)
(Ask our team in case of not receiving the code)
3. Select Lucky code, then bring the code to users.