How to play Zoo Racing
Zoo Racing: The cutest animal racing game ever!
In each round, there will be 6 animals running to the finish line.
Let the players decide which one is the winner and get the rewards.
The rewards are from
"The betting rate of your selected anima multiplied by the number of bets"
Play simple and suitable for players of all ages!
1. Transfer coupons to Zoo Racing
1.1 Players can transfer coupons to game by clicking as below picture.
1.2 Select the number of coupons,
export and import to game as you need.
2. Betting
2.1 We have 6 animals for you to choose for betting.
Each of them has different batting rate.
Duck / Flamingo betting rate 4 times
(such as 100 bets will be 400)
Deer / camel betting rate 6 times
(such as 100 bets will be 600)
Zebra betting rate 10 times
(such as 100 bets will be 1000)
Fox betting rate 15 times
(such as 100 bets will be 1500)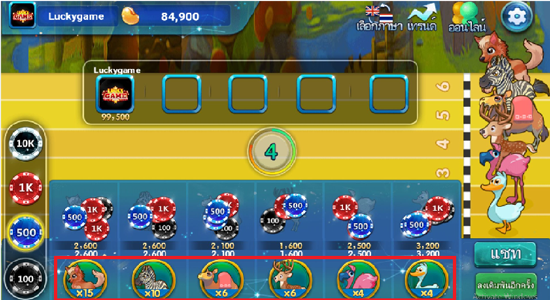 2.2 Select number of chips you need for betting.
The price of chips will be 2 sets,
the expensive and cheap sets depend
on number of coupons that you have.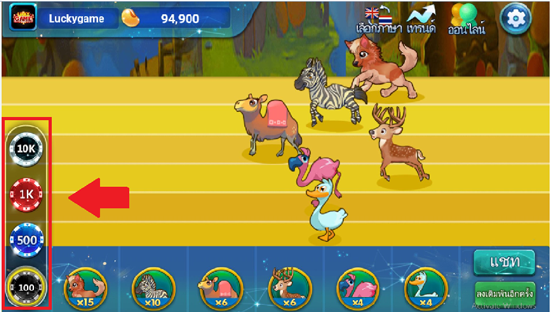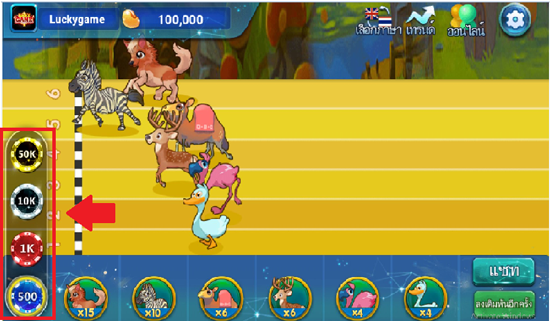 3. Trends or Results
The player can check the result of
the previous round by clicking the button " Trends" as below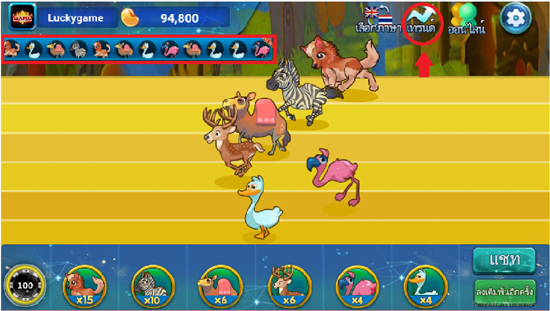 4. Betting again
This button is for betting on the same amount
from the previous round.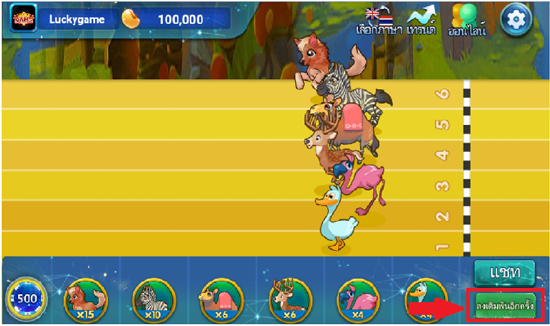 5. Chat

Players can send messages via this button.
There are 5 messages for players to send each other.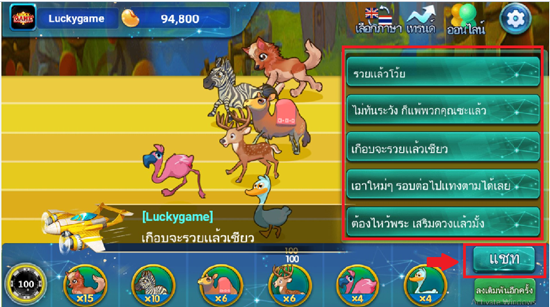 6. Language setting

Players can change the language from TH to EN as needed.
7. Online button
Players can see a list of other online
players with the "Online" button.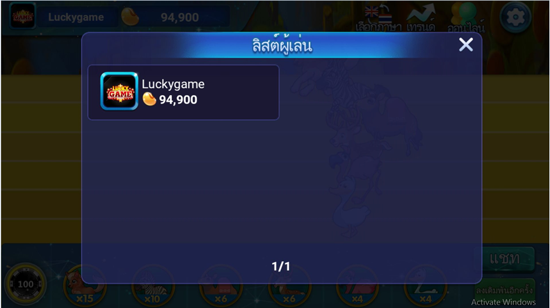 8. Other function buttons
8.1 On/Off sound button
8.2 On/Off chat button
8.3 Game description button
8.4 Announcement button
8.5 Quit button